The term the Golden Triangle is thought to have originally referred to the area between Newmarket Road, Ipswich Road and Lime Tree Road. This contained large, wealthy households, a legacy of successful tradesmen and professionals seeking to escape the cluttered and unhygienic conditions inside the city walls in the early to mid 1800s. The boundaries enclose a near perfect isosceles triangle. The use of the term has expanded over the years to cover several more parishes of the city, with the limits now considered to be Earlham Road, Newmarket Road, Colman Road and Mile End Road. Some would say it encompasses all the houses between Earlham and Dereham Roads too.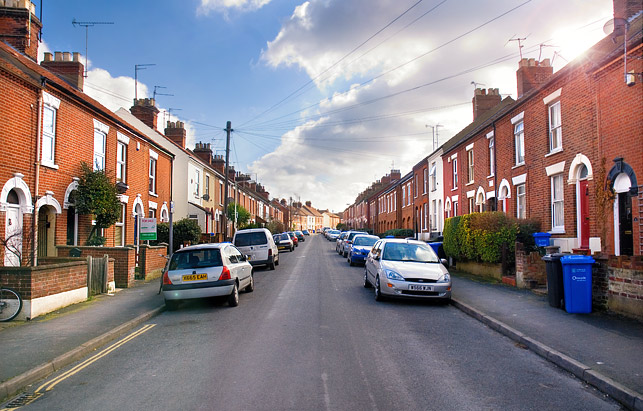 The housing stock is predominantly Victorian; terraced properties built between the 1860s and early 1900s, at a time when Norwich was expanding rapidly.
The inhabitants of the Golden Triangle are a diverse bunch: students, professionals and families, young and old, live side by side. There is a wide variety of businesses operating in the locale, from convenience stores and takeaways to ladies clothing, charity shops and even an art gallery. There is of course a great selection of pubs (this is Norwich after all, once a city with enough pubs to have a drink in a different one every day for a year).
Regular bus routes, taking you to the Norfolk & Norwich Hospital and the UEA in one direction, and through the city centre and on to the train station and Riverside in the other, cover the area.
This bus service makes the Golden Triangle a convenient place to stay for visitors to the city of Norwich. There are several hotels and bed and breakfasts in the area, providing a good range of accommodation and dining facilities.
With the interesting mix of residents and the surprising selection of shops and services, the Golden Triangle is a wonderful place to live, work and visit.